Where is the MuMo located?
MuMo is located in the Casco Viejo of Panama City in a space that allows both Panamanians and foreigners to know and appreciate the mola.
MuMo's address is José D. de la Obaldía street, El Colegio II building.
The building's name, El Colegio II, is a reminder of its prior use as a religious, girls-only school, Colegio María Inmaculada.
Your story is the protagonist
3:00 p.m.
We want to give rise to the little piece of history that lives in people's homes. To those pieces of fabric that form the molas, preserved in Panamanian homes. Let us tell the story to each other with these textile images as inspiration.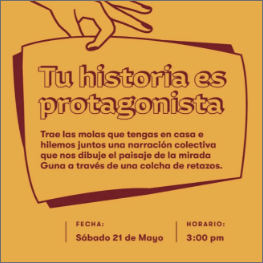 Molas in motion
3:00 p.m. a 5:00 p.m.
We will host the beautiful presence of a Guna woman who comes to visit to show her textile art, among many other curiosities that are born from her hands and other women from her community.